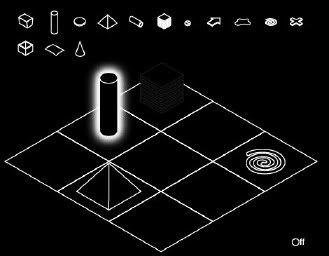 From 1929 to 1962, the French phenomenologist, Gaston Bachelard wrote several books in which he analysed and elucidated the "poetics" of matter, revealing the subtle yet profound ways the properties and associations of various substances affect the imagination. He demonstrated scientifically that water, for instance, could be experienced as "dissolved girl."
I am not sure whether Peter Blegvad is talking about Bachelard's book
Poetics of Space
which I read a long time ago and, after reading a few pages, decided to give it my own poetic kick across the room.
But it doesnt matter. Blegvad is having fun. There's a small cult of Blegvad out there. The quote above is from his site
On Numinosity
where you can also find and play with some Numinosity Flash toys. Also, it will become clearer that an object or thing (or person!) has three manifestations in the world - the object you imagine, the object you observe, and the object you remember. And so this already crowded space of objects unfolds into a kaleidoscope.
Blegvad also writes a comic strip called
Leviathan
which manages to reference every major French philosopher out there but is ultimately just about the world of a little boy named Levi. Predictably, Blegvad also has a band and
makes music
. So Blegvad is a rock star, literally as well as figuratively.